DSM 5 TR Training
Learn how to use the new diagnostic and taxonomic criteria with attention to cultural, racial, and ethnic factors, as well as gender inclusivity.
Explore the new diagnoses of  Prolonged Grief Disorder (PGD) and NonSuicidal Self Harm 
Review more than 70 revised diagnostic criteria sets which may improve the insurance claims process for certain mental health conditions.
Sign up for 1 year of unlimited CEUs to access the DSM V TR training  as well as over 500 other on-demand courses and live webinars.
May 18: Autism Spectrum Disorder DSM 5 TR
May 25: Psychotic Disorders in the DSM 5 TR
June 1:

Sleep-Wake Disorders/OSA in the DSM 5 TR

June 8: Trauma Related Disorders in the DSM 5 TR
June 15:

Attachment Related Disorders in the DSM 5 TR

June 22: Disruptive, Impulse Control and Conduct Disorders in the DSM 5 TR
June 29: Delirium, Dementia and Neurocognitive Disorders in the DSM 5 TR
July Paraphilic Disorders

in the DSM 5 TR

July Neurodevelopmental Disorders in the DSM 5 TR
July Eating Disorders and Body Dysmorphia in the DSM 5 TR
July Obsessive Compulsive Disorder in the DSM 5 TR Since 2006 AllCEUs.com has provided high-quality, multimedia CEUs for counselors, social workers, marriage and family therapists, case managers, rehabilitation counselors, nurses and more.  Our goal is to provide FREE resources that translate research to practice through our YouTube channel (YouTube.com/DocSnipes), and low-cost continuing education based on those videos for those who need counseling CEUs.
AllCEUs offers over 500 on-demand courses as well as live webinars each Wednesday at 12pm EST. 
Topics include:
Addiction Counseling

Counseling Techniques: CBT, DBT, ACT, Motivational Enhancement etc.

Clinical Areas of Focus NCE/NCMHCE 

Ethics

Grief Counseling

Neuroscience and Pharmacology

Supervision (Clinical)

Trauma Informed Care and more…
AllCEUs offers CEU-based certificates in
Trauma Informed Care

Addiction Counseling

Recovery Support

Case Management

and more… 
Online LPC CEUs, LMHC CEUs, LCSW CEUs, LMFT CEUs, Addiction Counselor CEUs, Case Management CEUs, Rehabilitation Counseling CEUs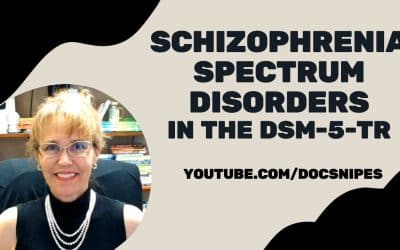 Live CEU Webinar on #Schizophrenia Spectrum Disorder Diagnosis with #DSM5TR Changes #NCE 📢SUBSCRIBE and click the BELL to get notified when new videos are uploaded. 💲 AllCEUs.com Unlimited CEUs $59 based on these videos Join this channel to get access to perks:...